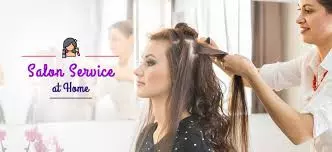 "
Are you still skeptical to step out to a salon near you or call the specialist to your house to get your hair and skin tone? Are you still struggling with the trimmer you bought to cut your hair? Do you still have doubts about salon home services? If you are thinking of trying salon service at home or having a dilemma to call them, then here are the 4-point guidelines to help you decide on it.
Types of Services
There are plenty of salon home services at home. Investigate completely what type of services are taken care of by them. You may check the reviews on all types of services provided by them. It is recommended to look for those service providers which provide a wide variety of services, from hair to skin to nails and many more. Check what items and equipment are carried from their side and what all things will be required from your side apart from electricity.
Hygiene at Home
Everyone is claiming to follow the safety standards of high quality after this pandemic. Salon service requires direct contact between the customer and the service provider. So, it is important to know what steps are taken before and after entering your home. Check on the following –
Disposal of tools like razors, cotton, etc.
Sterilization of tools like scissors, combs, cleaners
1. Sanitization measures are taken by the staff before and after starting the service, inside and outside the home.
Products within the expiry period and being sanitized before use.
Staff professional level
During these pandemic times, it is better to leave the emotional bonding with your saloon in the hind seat of the journey of your life. It is for your own safety and safety of the society as a whole. Be professional when safety matter comes under consideration. Check if the staff coming home to provide service are professional in their approach. Check their ratings and review if provided by their service provider organization. And next check about the customer satisfaction with the services provided. But be sure to not fall for artificial reviews written. Go for the customer testimonials on the website given followed by more credible information.
Safety, Time, and Comfort
Life was already busy with corporate work pressure, and then this pandemic made it more complicated, especially after the lock-down was lifted up. Now you need to consider is the safety factor apart from the long queue in a salon. Home salon service saves you a lot of time, money, and energy, and has an edge over the local salons in hustle-free pampering sessions. You need to make sure if you would want to go to a place where many people visit and the chances of getting an infection are high. Or you may reduce the chances of getting infected by availing salon services at home. The choice is in your hand. Above all, you need to check how approachable the service provider is before, during and post-service provided. Customer satisfaction is important and one should check the information rather than blindly following any big brand name. There are many Companies providing better and safe home salon services at more affordable prices than the big brands. Make sure that the Home Salon provides you your desired service with the best staff, product, and with care. Pick up your phone to call them and confirm your desired parameters set to choose them as your service provider.
"