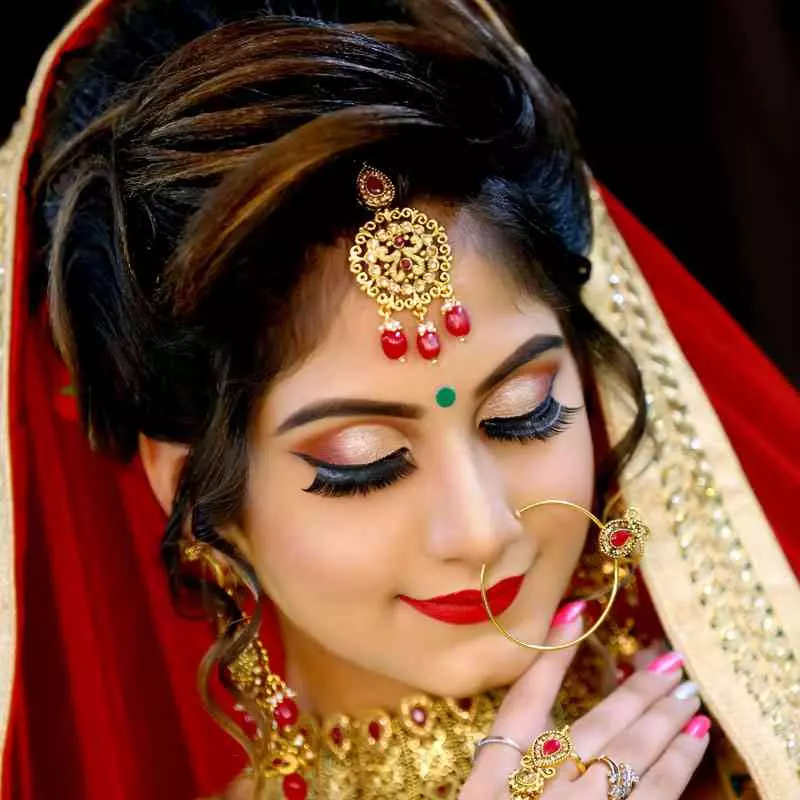 "
The presence of the pandemic in the lives of people has impacted many things and one of the major things has been weddings. There are many rules and regulations on every function that is to be conducted, making it difficult to experiment with wedding makeup for bridal looks. Considering that, this is a small guide to help the brides-to-be to look at different bridal makeup looks for their special day. It is not just the bride, but also the members of the family who look forward to getting decked up for the wedding day.
Here are some of the latest and trending wedding make-up ideas:
Bold Make-Up Look: When you opt for bright and bold colors for your attire, you should opt for a makeup look that is complementary to it. A bold lip color such as red or orange adds the wow-factor that you need for your special day.
Glossy Makeup Look: You can add a glossy tone to your wedding look with a simple lip gloss and highlighting the high points on the face. A highlighter can add a glow to your simple neutral look.
Keep it Simple and Subtle: Some people want to keep their natural look with minimum makeup. These wedding looks can be made sparkly by adding a subtle hint of glitter to enhance your facial features, especially your nose and eyes. One of the day ways to give a perfectly natural look is to opt for the same color shade for the eyes, cheeks, and lips.
Light, Soft, and Monochromatic Makeup Look: Light makeup look with a monochromatic makeup palette gives a soft and neutral complexion to highlight your facial features. Creamy brown shades or a single shade such as pale pink are makeup looks of this style.
Smokey Look: When it comes to a wedding ceremony, there are different ways to highlight your smokey look. You can opt for a blue shade for your smokey eye or go for a subtle brownish smokey shadow to give it a festive and sophisticated look. Minimum smokey eye effect can be made by using grey tones.
Warm and Coral Tones Look: A simple coral, caramel bronze, or milky bronze looks are some of the go-to wedding looks for light-colored attires. Simple tones and the same color palette are used to enhance your facial features.
Wing it Eyeliner Look: Eyeliners always enhance your eye features. Make a perfect smokey wing along with subtle highlights to make for an easy wedding look. You can also opt for the simple eyeliner flick for a soft and classic bridal look. You can also choose a smokey liner look or subtle liner look depending upon your attire for the event.
These are some of the bridal and wedding makeup looks that the bride and her bride squad can opt from. If you or someone you know is looking for bridal makeup and wedding looks, then experiment with some of the makeup ideas according to your attire and wedding theme, before finalizing on the one for the D-day!
"